BlitzWolf BW-HC1 Cordless / Bagless Vacuum Cleaner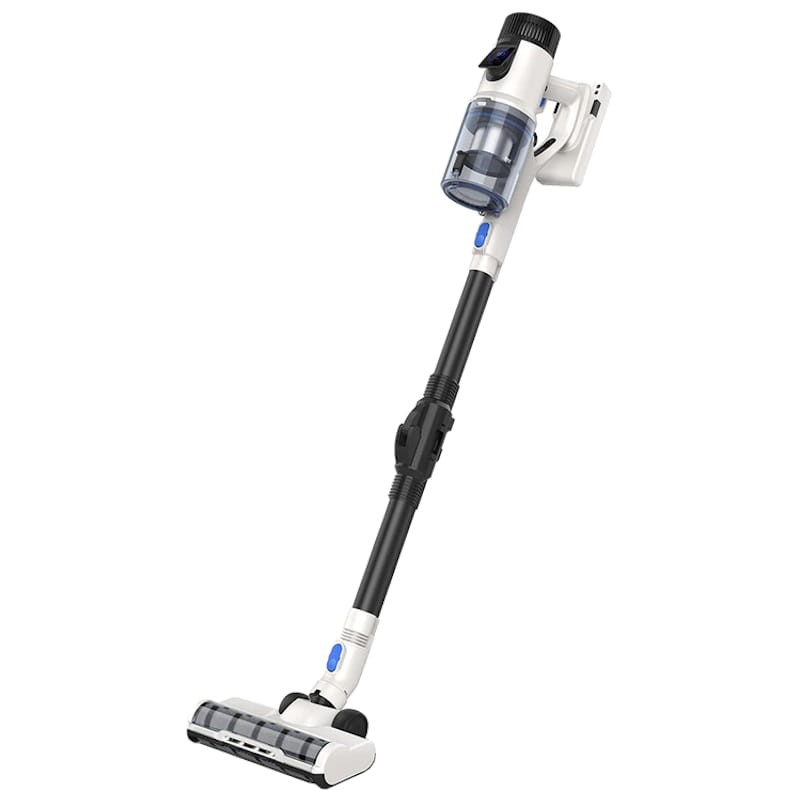 ---
BlitzWolf BW-HC1, cordless vacuum cleaner with flexible extension tube, high power of 25,000 pascals and super quiet operation
For all types of surfaces - With various heads - 350W digital motor - 25.000Pa - 700 ml dust tank - 2500 mAh battery - Battery life of up to 60 minutes - Cyclonic technology -<68 dB
Leave your home spotless with the BlitzWolf BW-HC1 cordless handheld vacuum cleaner. From floor to ceiling! This vacuum cleaner is designed to get rid of the toughest dirt in every corner of your home. To do so, it includes a fantastic suction power of 25,000 pascals, digital display, a high-capacity 2500 mAh battery, automatic speed, multiple heads and brushes and an articulated extensible tube. Don't miss it! Here are all the reasons why you should buy BlitzWolf BW-HC1 at Powerplanetonline.
Super-quiet 350W digital motor and 25,000 Pa suction power
For starters, you should know that the BlitzWolf BW-HC1 offers superb performance and efficiently removes dirt. This is because of its digital motor, which boasts an outstanding maximum power of 350 W and a suction capacity of up to 25,000 pascals (Pa).
This includes 2 power levels (Eco and Max) that you can select through its touch screen, and is capable of sucking up even the largest particles, such as coffee grounds. In addition, the BlitzWolf BW-HC1 integrates a dust level sensor, which automatically adjusts the power according to the degree of soiling, thus optimizing the cleaning result and battery life.
Last but not least, the brushless motor minimizes friction, which extends the lifetime of the device and leads to a quieter operation, below 68 dB.
Ergonomic, lightweight design with multiple accessories
And, to make it even easier for you, the motor and battery of the BlitzWolf BW-HC1 are integrated into the end of the vacuum cleaner, concentrating all the weight in this part so you can lift it comfortably and reach the highest areas of the room.
On the other hand, the BlitzWolf BW-HC1 is also equipped with multiple accessories that will help us remove dirt from different surfaces easily, such as the 270º rotating multi-surface head with two wheels and LED light, valid for both hard floors and carpets and rugs; the articulated extension tube, which will make it very easy to clean under furniture; the flat nozzle for vacuuming corners, crevices or hard-to-reach gaps; the brush for delicate surfaces, such as sofas and textiles; and the anti-dust mite brush, perfect for vacuuming curtains, cracks, computer keyboards. .. You'll be able to reach every nook and cranny!
Excellent filter system with cyclonic technology
We should also note that BlitzWolf has taken the utmost care with the filtering system of its BW-HC1 vacuum cleaner, consisting of a cutting-edge cyclonic technology, a metal mesh filter, a sponge filter and two high-efficiency filters. This way, the BlitzWolf BW-HC1 manages to expel a purer and less polluted air every time it cleans, ideal if you suffer from any type of allergy or respiratory condition.
2500 mAh battery with 60-minute runtime
Leave your home clean from top to bottom in the shortest possible time. The BlitzWolf BW-HC1 is equipped with a 2500 mAh battery, capable of providing up to 60 minutes of runtime* in Eco mode and up to 14 minutes* in Max mode on a single charge. You will see how this time will be enough to clean even large homes, especially if we take into account the long minutes saved by the convenience of the wireless system compared to conventional wired ones.
As if that weren't enough, the BlitzWolf BW-HC1 includes a wall base, helping you to keep it stored when not in use and always ready when you need it.
*Battery life times are subject to certain parameters, such as the amount of dirt, type of surface or mode (power level) selected, and may not reflect the actual product.
Easy tank cleaning and emptying
It's time to clean your cordless vacuum cleaner and... Phew, what a bore! Almost better to just go back to the old school broom, right? Well, no! Emptying the tank of the BlitzWolf BW-HC1 is super simple and hygienic, since you only have to place it over the bucket or garbage bag and press a button, without having to come into contact with the dirt. It couldn't be easier!
Technical Specifications BlitzWolf BW-HC1 Cordless / Bagless Vacuum Cleaner:
General parameters

Brand: BlitzWolf
Model: BW-HC1
Surfaces: All types of surfaces (carpets, wood, ceramic, marble, tiles, textiles, etc)

Technical parameters

Motor power: 350 W
Wind pressure: 25,000 Pa
Dust tank capacity: 700 ml
Noise: <68 dB
Nominal voltage: 100 - 240 V

Battery

Capacity: 2500 mAh
Battery life: 14 ~ 60 minutes
Charging time: 4 ~ 5 hours

Appearance

Dimensions: 122.5 x 26 x 24 cm
Weight: 2.4 kg
Colour: Black / White

Package content

1 x BlitzWolf BW-HC1
1 x Articulated extension tube
1 x Multi-surface brush
1 x Flat nozzle
1 x Brush for delicate surfaces
1 x Anti-mite brush
1 x Battery
1 x Charger
1 x Wall base
1 x User Manual
BlitzWolf BW-HC1 Cordless / Bagless Vacuum Cleaner Reviews
We have no reviews
of BlitzWolf BW-HC1 Cordless / Bagless Vacuum Cleaner
Be the first!

Review and win!
Every month we give away
300€ among all
the comments
You might be interested in