ASUS TUF Gaming AMD Radeon RX 6800 XT 16 GB GDDR6 - Graphics Card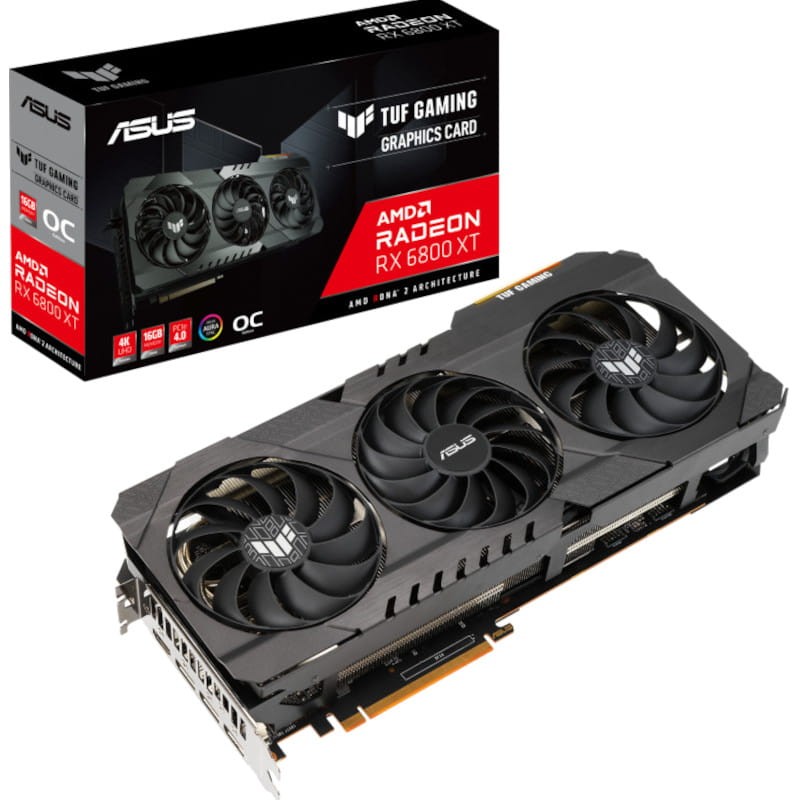 ---
ASUS TUF Gaming AMD Radeon RX 6800 XT 16GB GDDR6
16 GB GDDR6 - AMD architecture - Radeon RX 680 XT processor - 3 fans - 4K - PCI Express 4.0
TUF GAMING Radeon RX 6800 XT is a tenacious beast with a rugged metal exterior, super-efficient cooling, and components that offer increased durability. An all-metal shroud houses three powerful axial-tech fans with dual ball bearings and extra blades. Beneath the exoskeleton, a thick heatsink keeps thermals under tight control, and TUF components, selected for maximum durability and performance, keep the card ahead of the pack. You asked for a bad machine... this one is dead. ready for action.

BIGGER, BETTER COOLING
This generation, our Axial-tech fan design it has matured with an increased number of blades on all three fans: 13 on the central fan and 11 on the auxiliary fans. The barrier rings on the side fans have been slimmed down to allow more side intake and provide better airflow through the cooling array. Additional center fan blades and full-height ring provide increased static pressure to blow air directly over the GPU heatsink. The growth of fan design is on the rise. specifically optimized for a massive new heatsink that features more fins and surface area than previous iterations.

MAXCONTACT
So that To get heat out of the die and into the heat sink die, we've employed MaxContact technology to polish the surface of the heat sink and improve smoothness on a microscopic level. Additional flatness allows for better contact with the die for improved heat transfer.

2.9 SLOT DESIGN
Heat sink draws in heat into heat pipes that transport it through a fin stack that occupies most of the card's large 2.9-slot footprint.

TUF COMPONENTS
Robust military-grade capacitors were selected for the board's power design. They and other components are soldered to the PCB using our automated Auto-Extreme manufacturing process. Precise joints and the elimination of human error ensure that each graphics card meets our rigorous specifications. To ensure flawless performance when it counts, cards undergo a grueling 144-hour validation test.

METAL LAYER
A fully machined cover Aluminum construction creates a robust outer shell and a no-nonsense industrial design and grayscale color scheme blends into any build with ease.

ARMORED BOTTOM
The bottom of the card reveals more improvements. Most of the rear is covered. wrapped in a protective metal plate that highlights ample ventilation. The vent allows hot air to escape to the chassis exhaust fans instead of being recycled back to the GPU cooler. A GPU bracket provides additional stability to the critical connection between the die and the heat sink. Stainless steel is used for the I/O bracket to protect the ports and provide a more secure mount. And a conveniently located Dual Bios switch allows you to customize the card's default performance profile without software.

FUNCTIONAL FRONT
The front RGB element can be customized to display It features a variety of aesthetic and functional effects, and can also be synchronized with other ASUS components to enable even lighting. To meet the power demands of the Radeon RX 6800 XT, there are two 8-pin power connectors, along with onboard LEDs that light up if the power supply's PCIe power connectors are not connected. ;n plugged in correctly. The structural pillars of an incorporated reinforced metal frame are also visible here. and add a literal layer of durability.

GPU Tweak II
The ASUS GPU Tweak II utility takes graphics card tuning to the next level. Allows you to adjust critical parameters, including GPU core clocks, memory frequency and voltage settings, with the option to monitor everything in real time through a customizable on-screen display. Advanced fan control is also included along with many more features to help you get the most out of your graphics card.
RADIO SOFTWARE
The latest edition of Radeon Software Adrenalin 2020 unleashes the full potential of your GPU with day 0 drivers optimized for new game releases and a highly customizable gaming experience.


Technical specifications ASUS TUF Gaming AMD Radeon RX 6800 XT 16 GB GDDR6 - Graphics Card
Processor
CUDA
N
Graphics processor family
AMD
Graphics processor
Radeon RX 6800 XT
Maximum resolution
7680 x 4320 pixels
Parallel processing technology support
CrossFire,NVLink
Stream processors
4608
Maximum displays per videocard
4
Memory
Discrete graphics card memory
16 GB
Graphics card memory type
GDDR6
Memory bus
256 bit
Ports & interfaces
Interface type
PCI Express 4.0
HDMI ports quantity
1
HDMI version
2.1
DisplayPorts quantity
1
DisplayPort version
1.4a
Performance
PhysX
N
TV tuner integrated
N
DirectX version
12.0
Shader model version
N
OpenGL version
N
HDCP
N
Dual Link DVI
N
Design
Product colour
Black
Power
Power consumption (typical)
750 W
Weight & dimensions
Depth
310 mm
Height
140.2 mm
Width
57.8 mm
ASUS TUF Gaming AMD Radeon RX 6800 XT 16 GB GDDR6 - Graphics Card Reviews
We have no reviews
of ASUS TUF Gaming AMD Radeon RX 6800 XT 16 GB GDDR6 - Graphics Card
Be the first!

Review and win!
Every month we give away
300€ among all
the comments
You might be interested in