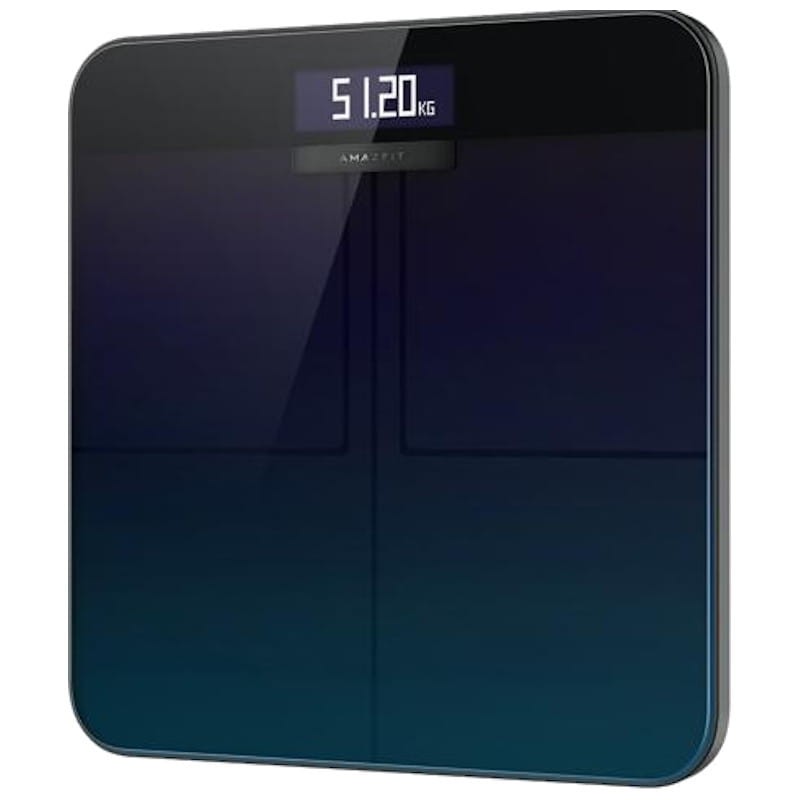 ---
Xiaomi Amazfit Smart Scale, sophisticated smart scale measuring 16 different body health metrics
G-shaped sensor to detect slight changes in weight - Precise measurements of 16 body health metrics - Energy cost calculation in 18 sports for a personalised exercise plan - Intuitive health analysis report - Resting heart rate analysis - Automatic data synchronisation via Wi-Fi and Bluetooth connections - Large, customisable LCD screen - Several easy-to-use accounts and functions for the whole family
Amazfit Smart Scale, the first smart scale of this renowned Xiaomi sub-brand.
Forget about old gadgets that only tell you the weight! Xiaomi Amazfit Smart Scale performs 16 body health metrics with great accuracy. It is also designed to be used in conjunction with the APP Zepp, which will collect all the data over time so you can compare and track your progress.
Stay on Powerplanetonline and discover in depth this wonderful scale by Xiaomi Amazfit.
Track 16 key indicators for your body health
Do you have a specific goal in terms of your physical health? Your goals will probably not only focus on losing weight, but can also include losing a certain percentage of body fat and gaining muscle mass, gaining both, or just keeping it as it is.
Either way, don't worry. The new smart scale from Xiaomi Amazfit will help you to control your weight and 15 other physical indicators.
To be more accurate, Amazfit Smart Scale will be able to measure body weight, percentage of body fat, muscle and water, Body Mass Index (BMI), bone mass, protein, Basal Metabolic Rate (BMR), degree of visceral fat, subcutaneous fat, skeletal muscle, changes in muscle mass, physical age, body type, ideal body weight and even an overall physical health score.
High-precision G-shaped Sensor
Furthermore, its high-precision G-shaped sensor is sensitive enough to detect slight changes in weight (up to 50 grams). In fact, Amazfit promises that its scale will show us the change in weight even if we only drink a glass of water.
Energy cost analysis of your exercise to increase its efficiency
But that's not all. Link the scale to the Zepp application and it will calculate the calories burned every 30 minutes in each of the 18 supported sports, based on previously measured body data, so you can devise a personalised exercise plan to strengthen your body.
18 sports included will be: walking, running, cycling, swimming, climbing, aerobic exercise, table tennis, tennis, football, fencing, gateball, badminton, squash, taekwondo, bounce ball, basketball, skipping and golf — you'll find your favourite one among them.
NOTE: Energy cost function will be available soon with an update via OTA.
Detection of heart rate at rest and balance test
But Amazfit's Smart Scale and its APP Zepp don't just give you a list of data. Together they make a complete evaluation of your body and offer suggestions for improving your physical condition.
They can even measure your heart rate at rest! So you can get to know your health even better and adapt your exercise plan. You can also test your balance with a few simple tests.
NOTE: Balance capacity analysis function will be available soon with an update via OTA.
Data synch with Zepp App
The new smart scale by Xiaomi Amazfit features Bluetooth 5.0 + Wi-Fi connectivity, so you can connect it to your smartphone and synchronise all your data with the previously mentioned APP Zepp. This way you can check your progress and statistics whenever you want.
Large LCD screen. Displays up to 8 health metrics
However, you won't need to reach for your mobile phone every time you weigh yourself. The large 3.4" LCD screen gives you quick access at a glance to the 8 indicators that matter most to you. Select them from the app and make using the Amazfit Smart Scale even more convenient and customised.
Unique Design
In addition, as is usual with the Xiaomi and Amazfit devices, its new Smart Scale has a fine and elegant design, made of top quality materials, now in dark colours. Its ABS body, one of the strongest plastics in the industry, has a glass coating to give it a premium feel and look.
Ideal for the whole family
Of course, Xiaomi Smart Scale is capable of storing up to 10 different user profiles and automatically recognises them when measuring — now the whole family can be weighed!
Get the Amazfit Smart Scale at Powerplanetonline
Without a doubt, this is one of the best smart scales on the market given its value for money. So... start taking care of your health now. Buy Amazfit Smart Scale at Powerplanetonline, your trusted online shop. Shipping from Spain in 24h. And 3 years warranty!
Xiaomi Amazfit Smart Scale Specifications:
Brand: Xiaomi Amazfit
Model: Smart Scale
Materials:

Body: ABS
Surface: Tempered Glass

Color: Aurora
Display: LCD
APP: Zepp
Bluetooth: 5.0 2.4 GHz
Wi-Fi: 802.11 b / g / n 2.4 GHz
Weight range: From 5kg to 180 kg
Functions:

Body weight
Body fat
Muscle mass
Water
Body Mass Index (BMI)
Basal Metabolism Rate (BMR)
Bone mass
Visceral fat
Subcutaneous fat
Skeletal muscle
Changes in muscle mass
Protein
Physical age
Body type
Ideal body weight
Assessment and scoring of physical health

Power supply: 4 AAA batteries (Not included)
Dimensions: 320 x 320 x 25 mm
Weight: 2.2 kg
Package content:
1 x Xiaomi Amazfit Smart Scale
1 x User Manual
15 Amazfit Smart Scale reviews
15 customers have already reviewed the article
the Amazfit Smart Scale
What do you think?
15 global reviews

Review and win!
Every month we give away
300€ among all
the comments
Leave a review!