Amazfit GTR 3 Pro Brown- Smartwatch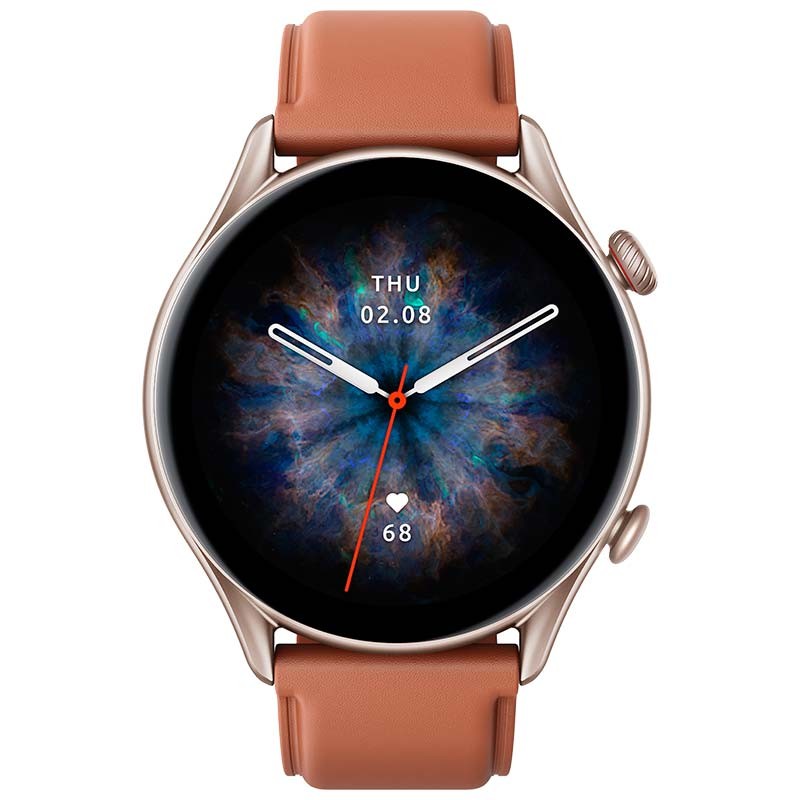 ---
Amazfit GTR 3 Pro Brown with leather strap, internal music storage and playback, speaker and microphone for Bluetooth calls
UHD AMOLED display - 1.45" round design - 480 x 480p resolution - 24/7 health monitoring - Zepp APP - Side navigation button - Up to 12 days of typical daily use - Bluetooth calling - Voice Assistant - Independent music playback - 150+ sport modes - 5 ATM water resistance
A worthy smart wearable has to make you look great and perform relentlessly, as it will be just another addition to your outfit. And the new Amazfit GTR 3 Pro does just that.
We are introducing you to the Brown Leather, the most elegant edition of this watch, with a leather strap and a classic round bezel. Its main differences with respect to the Amazfit GTR 3 is that it includes a speaker + microphone for Bluetooth calls, 2.3 GB for storing music and a tool for measuring temperature.
Read on to find out everything about it. Don't miss the opportunity to buy the Xiaomi Amazfit GTR 3 Pro at Powerplanetonline!
GTR 3 Pro Brown with 22mm leather strap
Inspired by classic watches, the super-sleek Amazfit GTR 3 Pro features a round body made from lightweight yet durable aircraft-grade aluminium alloy with a refined rotating crown. The bezel-less design blends seamlessly with the curved 2.5D glass of the display, enhancing premium aesthetics and visual immersion. The Brown Leather edition comes with a distinguished brown leather strap, but you can easily replace it with a 22mm universal strap to adapt your GTR 3 Pro to different events.
HD AMOLED Display. Ultra sharp and easy to read
Boasting unprecedented visual sharpness, even reaching 331 pixels per inch, the Amazfit GTR 3 Pro's large 1.45-inch display is fully readable even in bright sunlight. This ultra HD AMOLED panel also boasts a screen-to-body ratio of 70.6%, currently standing as one of the highest in the round smartwatch market.
Awesome watch faces and Always-on Display function
GTR 3 can be adapted to your mood, your look or just any special occasion with a wide selection of more than 150 watch faces, all of them matching with an Always-On Display face. Are you an active person in need of movement? Then step into the future and choose from 15 animated GT3 Pro watch faces.
4 Health metrics in just 1 touch with the new BioTracker 3.0
Get the health data you care about more accurately and efficiently with the Amazfit GTR 3 Pro. It features the new BioTracker PPG 3.0 6PD (six photodiodes) biometric sensor, capable of performing multiple health metrics* at the same time, making more efficient use of optical light.
With a simple tap, the Amazfit GTR 3 Pro can measure your heart rate, blood oxygen saturation, stress level and breathing rate, giving you results in as little as 45 seconds.
*Intended for general wellness and fitness purposes only. Not intended for use in the detection, diagnosis or treatment of any medical condition or disease. Measurements are for personal reference only. Consult a medical professional for advice
Dynamic monitoring of heart rate and SpO2 level
Given the important role that blood oxygen saturation levels play in human health, the Amazfit GTR 3 Pro's advanced biosensor automatically monitors your SpO2 level 24 hours a day, and warns you if it detects that your SpO2 level is too low.
The same goes for your heart health: Amazfit GTR 3 Pro monitors your heart rate throughout the day, even while you're swimming. With alerts for abnormally high or low heart rate, as well as heart rate zone tracking to help you optimise your workouts.
Take a simple look at your overall health with the PAI assessment system.
Everyday activities like cleaning the house or playing with your pet also contribute to your wellbeing. That's why the Amazfit GTR 3 Pro's health assessment system (PAI) takes these small actions into account, as well as conventional health and activity metrics, and converts all that complex data into a single value tailored to each individual, giving you a much more comprehensive picture of your overall health.
Sleep and breathing quality monitoring while sleeping
The sleep monitor is equally interesting, as it comprehensively detects and analyses your sleep stages while you rest. Enhanced measurement options allow you to check your blood oxygen levels and breathing quality while you sleep, giving you recommendations to help you improve the quality and duration of your rest.
Monitoring stress levels and the menstrual cycle
When the pressures of everyday life start to pile up, do you wish you'd planned ahead? Don't worry, the Amazfit GTR 3 Pro can help you out.
In addition to the above, the GTR 3 Pro monitors stress levels throughout the day. You will get alerts for abnormally high stress levels and use the included breathing exercises to relax.
Finally, thanks to the Amazfit GTR 3 Pro you could monitor your menstrual cycle, by getting reminders of the days until your next period and the days of your highest fertility.
150 sport modes, automatic recognition and professional data analysis
Whether you enjoy working out in a team or on your own, the Amazfit GTR 3 Pro is the ideal sports smartwatch. It's sure to have more than 150 sport modes to suit the activities you do, tracking your times, heart rate, calories burned and more.
Furthermore, the Amazfit GTR 3 Pro automatically recognises the 8 most used sport modes, so you don't even have to remember to select them before training, including: Outdoor Running, Indoor Running, Outdoor Walking, Indoor Walking, Cycling, Swimming, Rowing Machine and Elliptical.
Through the TrainingBeats motion algorithm, the Amazfit GTR 3 Pro can provide professional analysis of the collected data, indicating also the maximum oxygen consumption (VO₂max), training load (TL), training effect (TE) and total recovery time.
Integrated barometric altimeter and GPS
The saying "it's about the journey not the destination" makes more sense than ever with the Amazfit GTR 3 Pro. It integrates a barometric altimeter to help you monitor altitude and air pressure in your outdoor activities, as well as a multi-navigation system (GPS, GLONASS, Galileo, BDS and QZSS) to accurately record your tracks.
It also includes a Virtual Pacer, to encourage you to beat your previous records when running, and 5 ATM water resistance.
Easy and smooth experience with the new Zepp OS operating system
Enjoy a simple and fast user experience with the Amazfit GTR 3 Pro, which does everything a smartwatch can do - and in the best possible way!
All this is thanks in part to the new Zepp OS operating system, which shapes a gorgeous new colour scheme, takes up less space and introduces a richer app ecosystem with smoother interactions and quick access to your favourite features.
Rotating crown and voice assistant for convenient navigation
As we mentioned in the design section, the Amazfit GTR 3 Pro has a rotating crown on the right side, which allows you to comfortably navigate through its apps and menus, with precise haptic feedback provided by the linear motor.
To make it even easier for you, Amazfit has decided to include the Alexa voice assistant in the GTR 3 Pro. Set an alarm, ask a question or request a translation... without having to use your hands! You can also use the assistant offline to perform various operations, such as activating a sport mode or opening a health metrics function, by voice command.
Optimised battery management for 12 days of uninterrupted usage
On the other hand, it is important to know that your GTR 3 Pro watch will always be ready to accompany you on your travels and follow your progress, as it guarantees a deeply optimised battery management system. In fact, on a single charge, the Amazfit GTR 3 Pro's 450 mAh battery is capable of up to 12 days* of typical daily use, up to 6 days* of heavy use, up to 35 hours* with GPS enabled and up to 30 days* in Power Save Mode.
*Battery and charging data were obtained from internal labs. Actual results may vary based on differences in software version, environment and usage conditions and may not reflect actual product.
Multiple functions to make our lives easier
It goes without saying that the best smart devices combine different features designed to help us in our busy lifestyles. In the case of the GTR 3 Pro, we will find a versatile companion that will make it easy for us on multiple occasions: at work, at home, at the gym....
How? Well, it's very easy: asking for information about the weather so you always wear the right clothes, checking the calendar so you don't forget that important meeting, receiving alerts for notifications and calls so you don't miss anything important, using the stopwatch so you don't miss lunch, and even to hold on to the end of an abdominal plank... and much more!
Independent music playback and Bluetooth calls
An important phone call in the middle of your training session? No need to run for your mobile phone anymore. The watch GTR 3 Pro integrates a built-in speaker and microphone so you can answer Bluetooth calls directly from your wrist - convenient and easy like never before! You can also control music playback from your mobile phone or store up to 470 songs* in the watch's memory for local, independent playback.
*The maximum storage space for music is 2.3GB (due to the system space occupied, the actual space used by the user may be less than 2.3GB); based on 5-10MB per song, it can store up to 270-470 MP3 songs.
Technical specifications Amazfit GTR 3 Pro Brown Leather:
General parameters

Brand: Amazfit
Product: Smart Watch
Name: GTR 3 Pro

Screen

Size: 1.45 "(round)
Type: AMOLED
Resolution: 480 x 480 p
Density: 331 ppi
Glass: 2.5D tempered glass + Anti-fingerprint coating

Technical parameters

Health sensor: BioTrackerTM 3.0 PPG biometric sensor (6PD + 2LED)
Motion sensors: accelerometer, gyroscope, geomagnetic, altimeter, ambient light, temperature
Connection: Bluetooth 5.1 BLE, WLAN 2.4 GHz
GNSS: GPS, GLONASS, Galileo, BDS, QZSS
Compatible devices: Android 7.0 or higher, iOS 12 or higher
Application: Zepp APP

Additional functions

Remote control of music and phone camera (via Bluetooth)
Activity status
Weather forecast
Make / answer calls (via Bluetooth)
Incoming call notifications and notifications (via Bluetooth)
Timer
Stopwatch
Event reminder
Reminder of sedentary lifestyle
Alarm clock
Clock
Compass
Lantern
Find phone
Recorder
To-do lists
Temperature measurement tool
Menstrual cycle record

Battery

Capacity: 450 mAh
Autonomy (typical daily use): up to 12 days
Autonomy (economy mode): up to 30 days
Autonomy (intensive use): up to 6 days
Autonomy (GPS active): up to 35 hours
Charging time: 2 hours
Charging method: magnetic base

Aesthetic parameters

Watch material: Aluminum alloy
Strap: Leather (interchangeable 22mm) - Adjustable to wrists from 155 to 218 mm
Degree of impermeability: 5 ATM
Dimensions: 46 x 10.7 mm
Weight (without strap): 32 g
Weight (with strap): 43 g

Package content

1 x Amazfit GTR 3 Pro brown leather
1 x Charging cable
1 x User Manual
4 Amazfit GTR 3 Pro Brown- Smartwatch reviews
4 customers have already reviewed the article
the Amazfit GTR 3 Pro Brown- Smartwatch
What do you think?
4 global reviews

Review and win!
Every month we give away
300€ among all
the comments
Leave a review!