Amazfit GTR 2- Smartwatch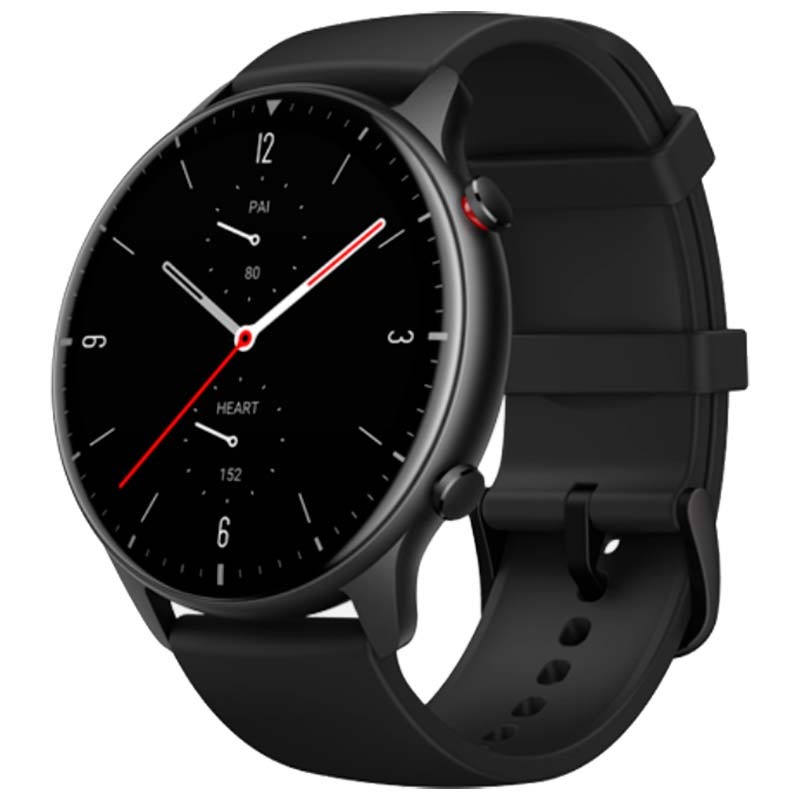 ---
Amazfit GTR 2, The Most Elegant Amazfit Watch in a Classic Design
Smartwatch sport - 1.39-inch AMOLED screen - 12 sport modes - Biotracker PPG 2 optical sensor - Accelerometer - Geomagnetic sensor - Air pressure sensor - Ambient light sensor - GPS - 471 mAh battery - Up to 14 days of daily use
Amazfit GTR 2 lands on Powerplanetonline ready to go straight home.
The new version of the classic-looking Amazfit smartwatch is back, full of surprises and new features to help you take care of your health and get better at sports.
As with all Amazfit watches, the new Gtr 2 has been designed to improve our health. These are ideal smartwatches for taking data on our physical condition and improving it little by little.
Thanks to the measures provided, we will have a clear reference point from which to improve our health.

It is also an elegant watch, ideal for wearing anywhere. Design and functionality at a spectacular price.
Stay here for an in-depth look at its slim, borderless design, its blood oxygen saturation detection, its great battery life... and much, much more!
Choose your version: Sport or Classic
Amazfit offers two GTR 2 versions to choose from, each one more incredible.
On the one hand, we have the Sport version, with a body made of aluminium (black colour) and a silicone strap, ideal for both a casual look and a hard workout.
On the other hand, the Classic version has a stainless steel body (silver colour) and a leather strap, which looks great!
The Exquisite Craftsmanship of a Classic Design
Fall in love at first sight with the Amazfit GTR 2's incredible borderless design, which delicately and naturally blends its strong body with the 3D glass covering the screen, giving you the best visual feeling with a wider field of view.
AMOLED Retina Screen with 326 ppi and 1.39".
Check all the information at a glance on the GTR 2's large AMOLED Retina screen, whose high resolution of 454 x 454 p and 326 ppi will give you sharp, colourful images.
And with the APP Zepp, you'll find different dial styles, so you can set the one that suits you best. And you can even place custom wallpapers.
Check the Time at All Times
Don't get carried away with its fascinating features: the Amazfit GTR 2 is, above all, a watch. And what is a watch for? To see the time, exactly.
So even if the screen is locked, the GTR can still show the time, so you'll never be late for your appointments!
22mm Interchangeable Strap
Amazfit GTR 2 also includes a silicone or leather strap, depending on the version you choose.

However, you can replace its 22mm strap with a different one in just a few seconds. This way, you can quickly adapt your watch to any event, such as a formal conference, a beer with friends, a wedding...
Which material do you prefer? Metal, leather, fluoroelastomer... Don't miss the great variety of compatible straps and accessories available in our catalogue, find the one you like best also in the related articles of this product!
Monitor your Health with the BioTracker PPG 2 Optical Sensor
But besides looking wonderful, the Amazfit GTR 2 has everything you need to know about your health.
The most important element in this section is its high-precision optical bio-tracking sensor, the BioTracker PPG 2, developed and patented by Huami Technology.
Get an Insight into Your Heart's Behavior
But... what is this sensor for? Well, one of the things it is in charge of is controlling your heart rate. In a constant and precise way. 24 hours a day. Seven days a week.
In this way, you will have a record of your heart's behaviour even while resting, automatically detecting atrial fibrillation and/or arrhythmias.
The GTR 2 smartwatch will also take into account the heart rate range when you are playing sport and warn you if it detects a value that is too high. Thus, you can reduce the risk of cardiovascular disease and improve your training.
NOTE: Amazfit GTR 2 is not a medical device. The fitness and health data it provides is for reference only and should not be used for diagnosis or treatment.
Blood Oxygen Percentage SpO2
The Biotracker PPG 2 optical sensor also measures another key health indicator: the percentage of blood oxygen saturation (SpO2). This indicator will be particularly relevant when you are doing high-intensity exercise.
Smart Fitness Assessment System
Well... What does this data mean? Do I have a good heart rate? A good SpO2 level? Are both levels improvable?
If you don't fully understand all these health indicators, don't worry: the Amazfit GTR 2 helps you to do so.
It uses a health assessment system, known as PAI (Personal Activity Intelligence). Using various algorithms offered by artificial intelligence, the smartwatch GTR 2 collects all the health and activity data obtained and transforms it into a numerical value. This numerical value will, of course, correspond to the "mark" that Amazfit gives to your body condition.
Of course, each calculation will be adapted to the conditions of the person concerned.
Sleep Analysis and Sleep Quality
Do your check-ups show correct levels and are you still very tired? Then you are probably not getting adequate rest, which is a fundamental requirement for maintaining good physical and mental health.
For this reason, the GTR 2 monitors your sleep completely, determining precisely the stages of sleep (light, deep, REM...) and the duration of each one, by analysing the quality of your breathing, rating the quality of your sleep and even making suggestions to improve it.
Best of all, it is also capable of analysing these parameters when you take a nap. So, make yourself comfortable, put on your Amazfit GTR 2 and... Sweet dreams!
From Mountaineering to Skiing: 12 Sport Modes
In addition to your health, the Amazfit GTR 2 helps you to improve your workout. In fact, it comes enriched with 12 types of activity, including: Outdoor Running, Walking, Outdoor Cycling, Indoor Walking/running, Indoor Cycling, Pool Swimming, Open water swimming, Elliptical trainer, Climbing, Skiing, Trail Running and Exercise.
Choose yours and control all your daily activity in precise way, adapted to the exercises you do, such as the steps taken, the distance covered or the calories burned, among others.
Get it to the Sea thanks to its Water Resistance
The above-mentioned Swimming Mode would not be possible without its water resistance level 5 ATM, which will allow us to get into the pool with it on, take a shower, practice sports in the rain, sweat buckets, etc. Don't worry about anything, just take care of your day-to-day life.
Built-in Micro and Speaker to Answer Calls
Do you have an important call and get caught in the middle of training? No more running to get your mobile phone, as the watch GTR 2 is equipped with both a speaker and a microphone, allowing you to answer your incoming calls without any further ado - convenient and easy as never before!
Wear your playlist on your wrist
To top it off, the Amazfit GTR 2 allows you to control the music on your smartphone from the paired watch itself via Bluetooth. But what's more, you'll have an incredible 3GB of local music storage space, enough to transfer between 300 and 600 of your favorite tracks to the watch via your phone.
Put your phone away, put on some wireless headphones, like the Amazfit PowerBuds for example, and enjoy your favorite playlists while you work out wherever and whenever you want.
Take control with Amazon Alexa
Although the most fascinating thing about the new smartwatch from Amazfit is probably its compatibility with Amazon Alexa. Talk to it and ask it to do things for you: get answers to questions, do translations, set alarms and timers, create shopping lists, check weather conditions, control compatible smart home devices, and much, much more.
NOTE: Alexa will be available through an upgrade via OTA.
Up to 14 Days of Autonomy
All right. The Amazfit GTR 2 combines software and hardware to deeply optimise energy consumption, to achieve an autonomy of up to 14 days*.
So Amazfit promises us that your GTR 2 can run continuously for 38 days in basic mode, enough to run a marathon or an endurance race.
*Battery life may vary depending on use, settings and other factors, so actual results may differ from the data shown above.

Amazfit GTR 2 technical specifications:
General parameters

Brand: Amazfit
Product: Smartwatch
Model: GTR 2 (A1952)
Materials Sport Edition:

Body: Aluminum (Black)
Strap: Silicone (Interchangeable 22 mm)

Materials Classic Edition:

Body: Stainless Steel (Silver)
Strap: Leather (Interchangeable 22 mm)

Recommended APP: Zepp (Multilanguage)

Screen

Size: 1.39 "
Type: AMOLED
Resolution: 454 x 454 p
Pixels per inch (PPI): 326

Technical parameters

Connectivity: Bluetooth 5.0
Wi-Fi: 2.4 GHz
Compatible operating system: Android 5.0 or higher, iOS 10 or higher
Water resistance: 5 ATM

Sensors

Optical sensor for biological analysis
Accelerometer
Gyroscope
Geomagnetic
Light
Air pressure
Linear vibration motor

Battery

Capacity: 471 mAh
Autonomy (typical daily use): up to 14 days
Autonomy (basic use): up to 38 days
Charging time: 2.5 hours approx.
Type of charge: Magnetic

Dimensions and weight

Dimensions: 46.4 x 46.4 x 10.7 mm
Weight (Aluminum): 31.5 g
Weight (Stainless Steel): 39 g

Package content

1 x Amazfit GTR 2
1 x Charging cable
1 x User Manual
121 Amazfit GTR 2- Smartwatch reviews
121 customers have already reviewed the article
the Amazfit GTR 2- Smartwatch
What do you think?
121 global reviews

Review and win!
Every month we give away
300€ among all
the comments
Leave a review!