Printer Creality3D CR-10 MAX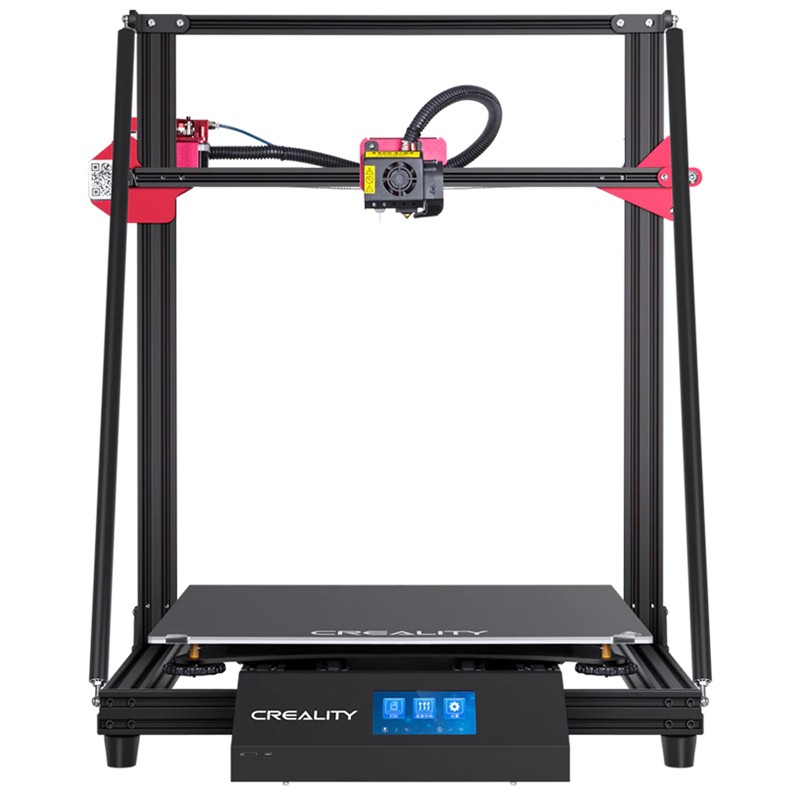 ---
Creality3D CR-10 MAX printer, you will make large projects with its 450 mm long area.
Hot bed up to 100º - BONDTECH dual gear extruder - 450 x 450 x 470 mm print area - Filament detector - Auto resume function - Touch screen colour display - 1.75mm filament compatible - MicroSD card support - PLA, ABS, PETG, TPU
The new Creality3D CR-10 MAX printer combines the large size of the CR-10 S5 with the features of the highest range of Creality, like its CR-10S PRO. A printer with a large printing volume, designed to make full-scale prototypes, functional parts, fictional characters, props or cosplay pieces... It maintains the same red and black aesthetics as the CR-10S Pro, and has a power supply plus a colour touch screen.
Big in size and performance
Designed to print big, thanks to its print volume of 450 x 450 x 470 mm, only surpassed by the CR-10 S5 in the Creality range. As for its features, we find a double Z motor with a spindle in each Z axis for greater performance and stability in the prints. In addition, it contains metal supports or "beams" that connect the upper part of the frame to the base forming a solid triangular structure that Creality have called "Golden Triangle", designed to eliminate Z-axis oscillations and provide the greatest possible stability in high prints. There are also double rails for the Y-axis, giving greater firmness to the movement of the printing base.
BONDTECH Double Gear Extruder
Apart from the quality of construction, the new Creality3D CR-10 MAX features premium components such as its BONDTECH double gear extruder, which provides a great thrust and has little to envy to professional extruders, or its Capricorn Teflon tube, the best option to load filament in Bowden systems for its high quality and resistance, as it avoids deformations while maintaining its perfect diameter along its entire length. Among the new feature is a dual output power supply, which divides the flow between the base plate and the heatable base for a stable performance and a much faster and reliable heating of the bed.
Self levelling and inductive sensor function
As for the options offered by this Creality3D CR-10 MAX, we have the self-levelling function that we can activate from the touch screen, and that together with the inductive sensor and the manual nuts, facilitate the levelling of the printing base. We also have the automatic resume option, which means that we can resume printing where it left off after a power cut, and the filament sensor that will detect when the filament spool has run out and pause the printer until we introduce a new spool so as not to lose the print.
Pre-assembled and with a tool kit
Like the rest of Creality printers, the CR-10 MAX comes pre-assembled (electronics, hotend, extruder) and only a few parts need to be assembled. Inside the box we find all kinds of accessories such as a filament sample, a flash drive and a micro SD card with ready to print examples, a tool kit that includes a spatula, cutting pliers, Allen keys, and some spare parts of the printer.
Technical Specifications Printer Creality3D CR-10 MAX
Features:

Brand: Creality3D
Type: semi DIY
Model: CR-10 MAX

Appearance:

Product size: 735 x 735 x 305 mm
Material of the structure: aluminum frame
Colour: Black and red
Weight: 24.8 kg

Platform:

Hot bed: Yes
Printing bed size: 450 x 450 x 470 mm
Aluminum thermal base
Maximum temperature of the hot bed: 100º

Extruder:

Number of extruders: 1
Extruder type: Double gear
Model: BONDTECH

Fuser:

Melting temperature: 0-250º
Layer thickness: 0.1-0.4mm
Nozzle Diameter: 0.4mm (can be substituted for other sizes)
Compatible with 1.75mm diameter filament
Accuracy: ± 0.1 mm
Printing speed: 200mm / s
Double fan

Display:

4.3 inch colour touch screen

Functions:

Filament detector
Automatic resume

Connectivity:
Printing materials:
Language: English
Package content:
1 x Printer Creality3D CR-10 MAX
1 x Tool kit
1 x Flash drive and micro SD card
1 x Filament sample
1 x Instruction Manual (English)
Printer Creality3D CR-10 MAX Reviews
We have no reviews
of Printer Creality3D CR-10 MAX
Be the first!

Review and win!
Every month we give away
300€ among all
the comments