3D Printer Artillery Genius PRO - Unsealed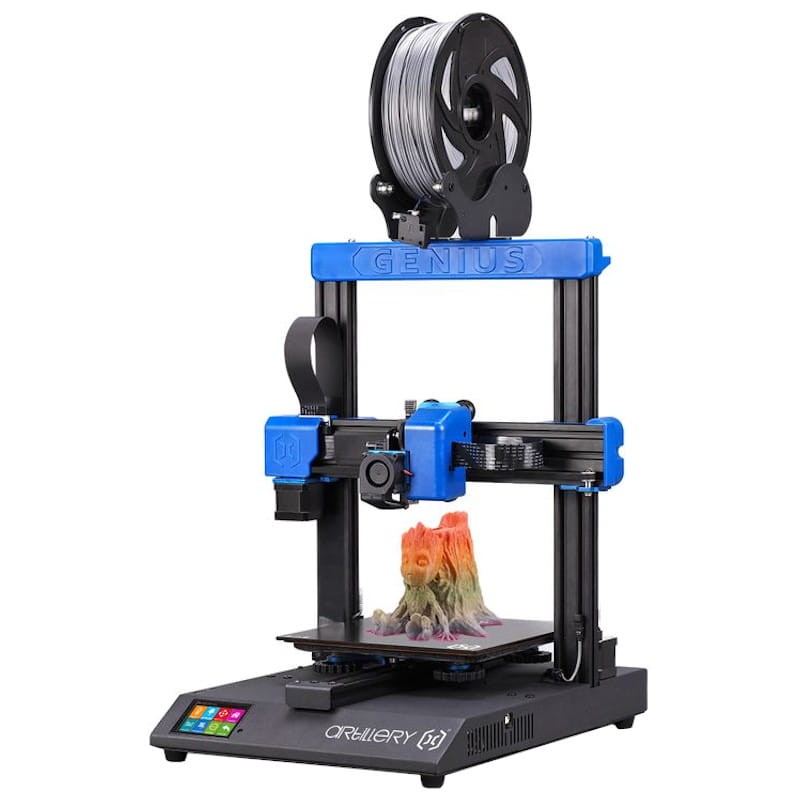 ---
Artillery Genius PRO 3D printer, you can assemble it in 10 minutes and it gives you great resolution.
Silicone hot bed - TFT color touch screen - Print recovery after power outage - Volcano HotEnd and Titan extruder - Inductive limit switc - TMC100 silent drivers - Double Z-axis leadscrew - Filament runout sensor
*Unsealed: New item whose original protectors and seals have been removed or has a deteriorated packaging. These items do not show any signs of previous use and have a 3-year warranty.
The new Artillery Genius PRO 3D printer is one of the most complete models of the moment. With its HotEnd V6 and a Titan extruder, its inductive limit switches... It is one of the best we have at Powerplanetonline.
It also has a silicone hot bed, print recovery after power outage and much, much more. Do you want to know more about it?
For all types of users
No matter if you are a rookie in this 3D printer thing or you are already a professional, the new Artillery Genius PRO printer will allow you to have the best results in the simplest way and it only takes 10 minutes to assemble it. It is a printer that works by material extrusion, a form of printing based on pushing a filament of solid thermoplastic material through a heated nozzle, melting it in the process. Thus, the printer deposits the material on a building platform along a predetermined trajectory, where it cools and solidifies to form a solid object.
It has a very high stability thanks to its double leadscrew and double motor on the Z-axis. In addition, it has a high quality volcano hotend and titan extruder, with which it will raise the temperature quickly. With its LED, it will let you know when it is at an optimal temperature to work. In addition, it has a hot bed with relay that makes it heat up very quickly, protecting the heat of the plate.
Quiet and print recovery after a power outage
When it is running, it produces very little sound, making it one of the quietest 3D printers. At the same time, if it runs out of filament or if a problem occurs, it will resume printing where it left off. All this with a full color TFT touch screen, where you will see your project while it is printing.
We are also introducing one of the fastest printers of the moment, with a very high transverse speed. A maximum print speed of up to 150 mm/s while having a huge print size of 22 x 22 x 25 cm. It also has an accurate print quality of up to 50 microns. Supports all types of materials, from firm ones to flexible ones.
Technical Specifications 3D Printer Artillery Genius PRO - Unsealed:
Features:

Brand: Artillery
Type: semi-assembled FFF
Model: Genius PRO

Platform:

Heated bed: Yes, ceramic glass
Heated bed type: Quick heating
Platform dimensions: 22 x 22 x 25 cm
Dual Z Rail System

Extruder:

Number of extruders: 1, direct drive (titan type)
Nozzle diameter: 0.4 mm
Nozzle temperature: 240 ºC

Fuser:

Layer height: 0.01 mm
Compatible with 1.75mm diameter filament
XY axis precision: 0.05mm
Maximum printing speed: 150 mm
Print speed: 70mm / s
Advisable: 50 mm / s
Own silent drivers TMC1100
Volcano HotEnd

Display:
Connectivity:
Printing materials:

PLA
PETG
TPU
ABS
1.75 mm ASA

Language: English, Chinese
Power supply: 24V
Appearance:

Product size: 43 x 39 x 59 cm
Material of the structure: aluminum
Color: Black / Blue
Weight: 8.9 kg
What's in the box:
1 x 3D Printer Artillery Genius PRO - Unsealed
1 x Tool kit
1 x USB flash drive and micro SD card
1 x Instruction Manual (English)
3D Printer Artillery Genius PRO - Unsealed Reviews
We have no reviews
of 3D Printer Artillery Genius PRO - Unsealed
Be the first!

Review and win!
Every month we give away
300€ among all
the comments