Nintendo Switch Neon Blue/Neon Red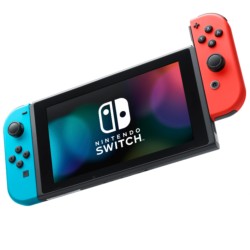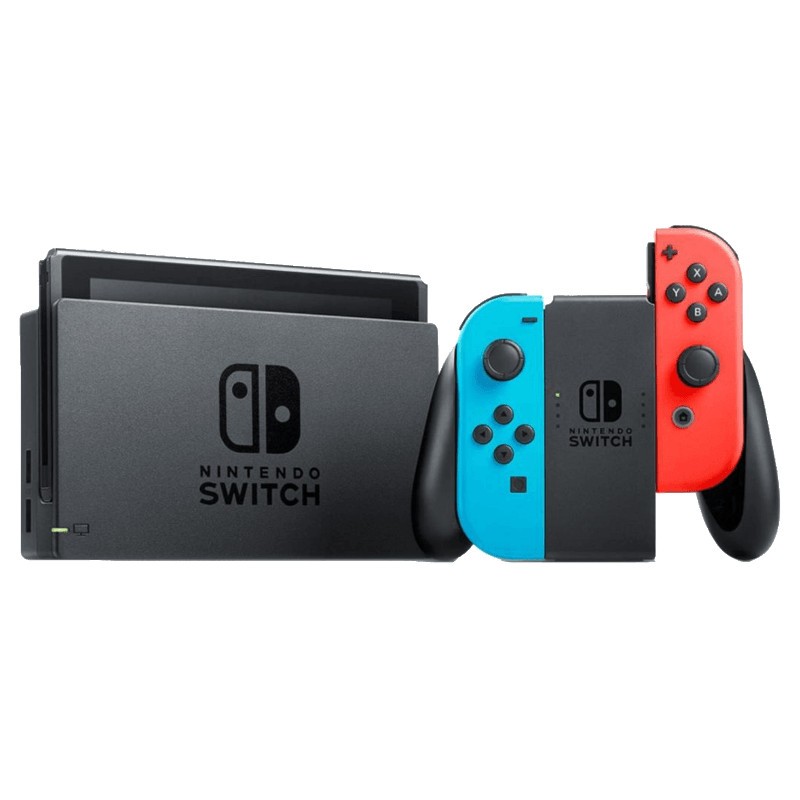 Send me an alert by email
---
Nintendo Switch Neon Blue/Neon Red
Ever given up on a game because you didn't have enough time to play? The Nintendo Switch system can transform to suit your situation, so you can play the games you want, no matter how busy life may be. It's a new era where you don't have to adjust your lifestyle to play games – instead, your console adjusts to fit around your lifestyle. Enjoy games anytime, anywhere, with anyone, with flexible and free play modes.
Three play modes

TV mode: Gather around a big screen and enjoy gaming with a crowd. Hook up the console to the TV and everyone can enjoy playing, from kids to adults. It's a great way to get into the game with family and friends at home.
Tabletop mode: Share the screen, share the fun. If you don't have access to a TV, prop up the stand attached to the console and hand a Joy-Con to a friend to play co-operative or competitive games right on the console screen.
Handheld mode: Carry around a large, beautiful display anywhere you go. Enjoy the same gameplay experience as on a TV screen, right at your fingertips. Play engaging games you've never thought you can play on the go anytime, anywhere.
Link up to eight consoles for multiplayer
Local multiplayer: Players can sync together up to eight Nintendo Switch consoles to play competitive and co-operative multiplayer games.
Online multiplayer: If you sign up to the online subscription service for Nintendo Switch*, you can play with friends far away and players around the world. With this paid service, you can enjoy online multiplayer gaming as well as a dedicated smart device app that connects to your Nintendo Switch system and helps you connect with friends for online play sessions.
*This paid online subscription service will be available free of charge until its official launch in 2018.
Share the fun with Joy-Con
Nintendo Switch has a controller on each side of the console that function together: the Joy-Con. If you attach the two Joy-Con to the Joy-Con grip, it will work like a traditional controller, and without the grip they work as two individual, fully-functioning controllers. By handing one of the Joy-Con to a friend, you can play competitive or co-operative multiplayer anywhere. As well as holding a single Joy-Con vertically or horizontally to play games, you can also play using both Joy-Con at once, holding one in each hand. Attach the Joy-Con straps included in the package and slip the straps onto your wrists to enjoy the Joy-Con's motion controls. If you hold the Joy-Con sideways, you can also access the SL/SR Buttons with ease.
A sense of touch that goes beyond mere vibrations
Imagine the Joy-Con is a glass containing ice cubes. With HD rumble, when you move and tilt the Joy-Con you can feel the ice cubes clanking around. There's one, there's another…HD rumble feels so realistic that you can even tell how many cubes there are, almost as if you're actually holding a glass in your hand. The HD rumble function included in the Joy-Con creates an immersive gameplay experience that isn't possible with images and sounds alone.
Sense shape, movement and distance
The IR Motion Camera in Joy-Con (R) can detect the shape, movement and distance of objects captured by the camera. For example, it can recognise the shape of players' hands, such as when you make a rock, paper or scissors. With this feature, there are more gameplay possibilities than ever!
Specifications Nintendo Switch Neon Blue/Neon Red:
Size

102mm x 239mm x 13.9mm (with Joy-Con attached)
Please note: 28.4mm at the thickest, from the tips of the analogue sticks to the ZL/ZR Button protrusions

Weight

Approx. 297g (With Joy-Con controllers attached: 398g)

Screen

Capacitive touch screen / 6.2 inch LCD / 1280x720 resolution
CPU/GPU
NVIDIA customised Tegra processor

System memory

32 GB
Please note: approximately 6.2 GB of internal memory is reserved for use by the system.

Communication features

Wireless LAN (IEEE 802.11 a/b/g/n/ac compliant) / Bluetooth 4.1 (TV mode only. A wired LAN connection is possible through the use of a commercially available wired LAN adapter.)

Video output

Maximum resolution: 1920x1080, 60 fps
Please note: output via HDMI cable in TV mode. In tabletop mode and handheld mode, the maximum resolution is 1280x720, which matches the screen resolution.

Audio output

Supports linear PCM 5.1ch
Please note: output via HDMI cable in TV mode.

Speakers
USB terminal

USB Type-C terminal
Used for charging or for connecting to the Nintendo Switch dock.

Headphone mic. jack
Game card slot

Exclusively for Nintendo Switch game cards

microSD card slot

Compatible with microSD, microSDHC and microSDXC memory cards
Please note: an update via an internet connection is required to use microSDXC memory cards

Sensors

Accelerometer / gyroscope / brightness sensor

Operating environment

Temperature: 5 - 35°C / Humidity: 20 - 80%

Internal battery

Lithium ion battery / battery capacity 4310mAh
Please note: the internal battery cannot be removed. If the battery needs to be replaced, we plan to offer paid replacement via Nintendo Customer Support

Battery life

Battery life can last for more than six hours, but will vary depending on the software and usage conditions
For example, The Legend of Zelda: Breath of the Wild can be played for roughly three hours on a single charge

Charging time

3 hours approx.
Please note: this is the time taken to charge while the console is in sleep mode
Package contents:
1 x Nintendo Switch base
1 x Joy-Con Remote Control
1 x Joy-Con Straps
1 x Joy-Con Stand
1 x HDMI cable
1 x Nintendo Switch Power Adapter
1 x Nintendo Switch Important information brochure
* Shipping prices may vary depending on the weight and destination of the package. Check the shipping conditions on our delivery site. Shipping rates on PowerPlanetonline
All items are shipped from Spain, so won't have to worry about customs fees.


And, as always, a 2-year warranty and VAT included.
---
1.- All items have a 2-year warranty and a 14-day return policy. (Except for reconditioned products with only a 1-year warranty, fungible products with a 6-month warranty and items included as exclusions of withdrawal).
2.- In case of malfunction or breakdown covered by warranty, transportation costs, for both collection and delivery, shall be borne entirely by Powerplanetonline.com.
3.- Repairs under warranty will be performed in our own highly specialized and qualified Technical Service unless the manufacturer offers its own repair service, either national or European, or if Powerplanetonline.com considers it as the best option.
At PowerPlanet you can buy the best brands in the market at the best price. Buy your Meizu, Xiaomi, Elephone at the best price with two-year warranty. And, if you prefer, we also have a drone section, where you can find the best brands: Syma, Eachine...