Canon EOS 80D + EF-S 18-55 IS STM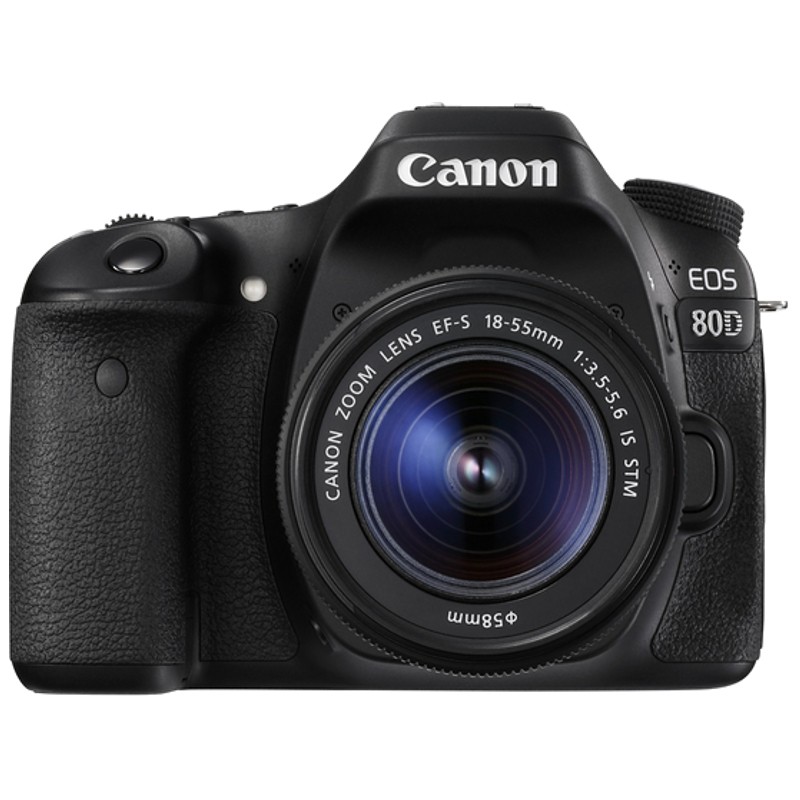 Send me an alert by email
---
Specifications Canon EOS 80D + EF-S 18-55 IS STM:
Lens:

Optical Zoom: 3,1x
Wide angle: Yes
Focal Length: 18mm to 55mm (Lens 1)
Image Stabilizer (IS): No
Automatic Focus: Yes
Focus Modes: Auto, Manual

Interface:
Live View Mode:

Auto Focus: Dual Pixel CMOS AF (Face detection, Tracking AF, FlexiZone-Multi, FlexiZone-Single), Tracking sensitivity (-3 to +3), Movie Servo AF Speed ​​(-7 to +2)
Manual Focus: Enlarges the 5x or 10x image anywhere on the screen
Display Options: Grid overlay (x3), Histogram, Electronic level,
Measurement: Real-time evaluative measurement with image sensor. Evaluative measurement, partial measurement, point measurement, averaged measurement weighted to the center.
Coverage: Approx. 100% (horizontal and vertical)

Memory:

Supported memory card: SD, SDHC, SDXC

Viewfinder:

Depth of field preview: yes
Type of depth-of-field preview: with depth-of-field preview button
Eye shutter: On the strap
Mirror: Half mirror with fast return (transmission: reflection ratio of 40:60, without mirror lock with EF of 600 mm f / 4 IS USM or lower)
Distance to the eye: Approx. 22 mm (from the center of the eyepiece lens)
Compatible software: Digital Photo Professional 4.4.0 (RAW image processing)

Power supply:

Electrical requirements: Lithium-ion battery
Battery life: Approx. 960 (at 23 ° C, AE 50%, FA 50%) (5) Approx. 860 (at 0 ° C, AE 50%, FE 50%)
Battery indicator: 6 levels + percentage
Energy saving: The camera turns off after 1, 2, 4, 8, 15 or 30 minutes
Electrical requirements: Rechargeable Li-ion battery LP-E6N (supplied), integrated for date and settings
Power supply: AC-E6 AC adapter (N), DC adapter: DR-E6, LC-E6 battery charger, CBC-E6 car battery charger

Exposition:

AE Lock: Yes
AE-Auto Lock: Works in AF mode Photo by photo with exposure of evaluative measurement blocked when focus is achieved.
BLocking AE-Manual: Using the AE lock button in the creative zone modes.
Histogram-brightness: yes
Histogram-RGB: Yes
Automatic exposure bracketing: 2, 3, 5 or 7 shots +/- 3 EV in increments of 1/3 or 1/2 step
Measuring modes: RGB + IR measuring sensor of 7560 pixels Measuring with the area divided into 63 segments (9 × 7) (1) Evaluative measurement (related to all AF points) (2) Partial measurement (approx. % of the viewer) (3) Point measurement (approximately 3.8% of the viewfinder) (4) Average averaging measurement with central preponderance
Highlights warning: yes
Measuring range: 1-20 EV (at 23 ° C with a lens of 50 mm f / 1.4, 100 ISO)
Exposure Compensation: +/- 5 EV in increments of 1/3 or 1/2 step (can be combined with AEB).
ISO sensitivity: Auto (100-16000), 100-16000 (in 1/3 step or 1 step increments) ISO sensitivity can be extended up to H: 25600 During video recording: Auto (100-12800), 100 -12800 (in 1/3 step or 1 step increments) ISO sensitivity can be extended up to H: 25600

File types:

Simultaneous recording of RAW-JPEG: Yes
Simultaneous recording type of RAW + JPEG: RAW + JPEG, M-RAW + JPEG, S-RAW + JPEG
Image Size: JPEG 3: 2: (G) 6000 x 4000, (M) 3984 x 2656, (P1) 2976 x 1984, (P2) 1920x1280, (P3) 720x480JPEG 4: 3: (G) 5328x4000, (M ) 3552x2664, (P1) 2656x1992, (P2) 1696x1280, (P3) 640x480JPEG 16: 9: (G) 6000x3368, (M) 3984x2240, (P1) 2976x1680 (P2) 1920x1080, (P3) 720x408 JPEG 1: 1: ( G) 4000x4000, (M) 2656x2656, (P1) 1984x1984, (P2) 1280x1280, (P3) 480x480RAW: (RAW) 6000x4000, (M-RAW) 4500x3000, (S-RAW) 3000x2000
Video duration: Max. 29 min 59 s, maximum file size 4 GB (if the file size exceeds 4 GB, a new file will be created automatically)
Video type: MOV / MP4 (Video: H.264 intra-frame / inter-frame, Sound: Linear PCM / AAC, recording level adjustable by the user)
Type of still images: JPEG: good, normal, (compatible with Exif 2.30 [Exif Print]) / Design rule for Camera File system (2.0), RAW: RAW, M-RAW, S-RAW (14 bits, original Canon RAW second edition), Digital print order format [DPOF] compatible with version 1.1

Image Sensor:

Sensor cleaning: Integrated EOS Cleaning System
Type of image sensor: Approx. CMOS of 22.3 x 14.9 mm
Type of color filter: primary colors
Effective pixels in images: Approx. 24.20 megapixels
We recommend visiting the official product page to see all the specifications
Package content:
1 x Canon EOS 80D
1 x Objective EF-S 18-55 IS STM
1 x Battery LP-E6N
1 x Battery charger
1 x E2 hand strap
1 x Cable
* Shipping prices may vary depending on the weight and destination of the package. Check the shipping conditions on our delivery site. Shipping rates on PowerPlanetonline
All items are shipped from Spain, so won't have to worry about customs fees.


And, as always, a 2-year warranty and VAT included.
---
1.- All items have a 2-year warranty and a 14-day return policy. (Except for reconditioned products with only a 1-year warranty, fungible products with a 6-month warranty and items included as exclusions of withdrawal).
2.- In case of malfunction or breakdown covered by warranty, transportation costs, for both collection and delivery, shall be borne entirely by Powerplanetonline.com.
3.- Repairs under warranty will be performed in our own highly specialized and qualified Technical Service unless the manufacturer offers its own repair service, either national or European, or if Powerplanetonline.com considers it as the best option.
At PowerPlanet you can buy the best brands in the market at the best price. Buy your Meizu, Xiaomi, Elephone at the best price with two-year warranty. And, if you prefer, we also have a drone section, where you can find the best brands: Syma, Eachine...